The Children's Library Fund

Help us start Children's Libraries at our Children's Homes in India, Thailand, Burma and Swaziland! GIVE BOOKS to GIVE HOPE!... Read More

The HOPE Fund

Help us provide RESCUE, PROTECTION, and HOLISTIC CARE to children in India, Thailand, Burma, and Swaziland! Give a donation to our HOPE fu... Read More
The Children's Library Fund

Help us start Children's Libraries at our Children's Homes in India, Thailand, Burma and Swaziland! GIVE BOOKS to GIVE HOPE!... Read More

The HOPE Fund

Help us provide RESCUE, PROTECTION, and HOLISTIC CARE to children in India, Thailand, Burma, and Swaziland! Give a donation to our HOPE fu... Read More
The Children's Library Fund

Help us start Children's Libraries at our Children's Homes in India, Thailand, Burma and Swaziland! GIVE BOOKS to GIVE HOPE!... Read More

The HOPE Fund

Help us provide RESCUE, PROTECTION, and HOLISTIC CARE to children in India, Thailand, Burma, and Swaziland! Give a donation to our HOPE fu... Read More
Swaziland School Fees

Give the gift of EDUCATION! Your donation will help children in Nsoko, Swaziland go to school! $7,500 will put 35 kids in school for a who... Read More

The Children's Library Fund

Help us start Children's Libraries at our Children's Homes in India, Thailand, Burma and Swaziland! GIVE BOOKS to GIVE HOPE!... Read More

The HOPE Fund

Help us provide RESCUE, PROTECTION, and HOLISTIC CARE to children in India, Thailand, Burma, and Swaziland! Give a donation to our HOPE fu... Read More
The Sound of Hope exists to raise funds and awareness for orphans and vulnerable children around the world.


We are committed to helping children break out of the cycle of poverty by partnering with programs that offer holistic care.
We seek to educate, engage, and empower others to join the movement in creative ways.
Featured Post & Videos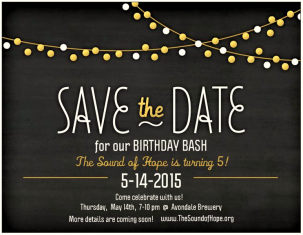 March 25, 2015 at 1:11 PM
Save the Date friends! This May is The Sound of Hope's 5th birthday – and we're celebrating by hosting our very first event! It's going to be a lot of fun, and you don't want to miss it! More details are coming soon – but for now, pencil us in on your calendar on May Read more...