Give the gift of Christmas to children in need!
We're posting from Thailand today, where we've had an incredible 2 weeks with our sweet kids here! We can't wait to share some photos and videos on our blog soon – but after hearing first hand what the children want for Christmas, we wanted to make sure to share this blog ASAP! 
We hope you all had a wonderful Thanksgiving, and are now preparing to welcome a season of HOPE and JOY. It's the most wonderful time of the year, and we have some incredible opportunities for you to GIVE this Christmas! The children we care for around the world have a lot of needs each winter – and it's so easy for you to make their Christmas special. Whether you are giving $20, $200, or $2,000 – you can know that you money is making a BIG difference in the lives of children in need! We hope you'll consider each of these fundraisers, and share them with your friends and family too. We know that we have some incredible donors, and we believe that together we can get all of these needs funded by December 20th!
---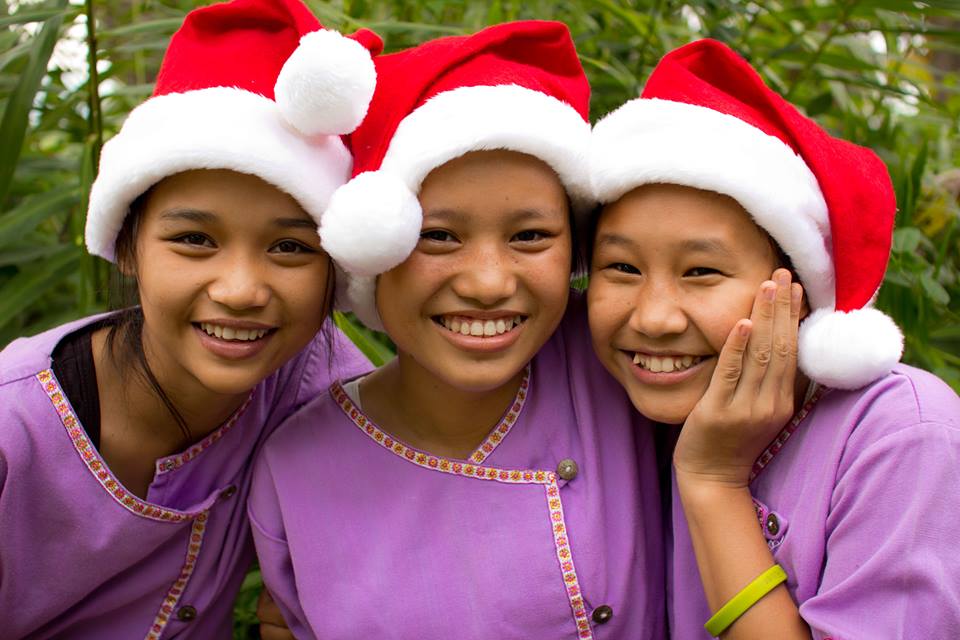 THAILAND
The children at Baan Choo Jai (The Helping Hearts Girls' Home in Thailand) have had very difficult lives. All 8 little girls came from impoverished mountain villages where they had been orphaned or abandoned. Many were at risk of abuse or trafficking. But today they are all thriving in a safe, loving home – and we want to be sure that they feel extra special this Christmas!
This is the third Christmas for our sweet girls at this Children's Home – and we want to make it their best Christmas yet! For just $50 you can sponsor one little girl in our Thailand Home this Christmas. This amount will provide a child with a new outfit (warm pants and a jacket), a hat, scarf, and gloves. Believe it or not – the mountains of Northern Thailand do get cold! This is the one warm outfit the children will use for the next year.
These talented little girls have been asked to sing and put on Christmas programs in several villages and nearby cities during December, and they will definitely need these warm clothes to travel this month! So please – give today!
**Update: This home has now been fully sponsored thanks to one awesome donor! But our homes in India and Burma still need sponsorships – so please check out those needs below!**
---
———- 

BURMA
The Refuge Children's Home, located on the Thai/Burma border, is home to 8 tribal Karen refugee children who have fled the violence and oppression in Burma. At The Refuge, they are safe and able to get a quality education. They also learn many sustainable life skills like sewing, baking, gardening, and raising livestock.
This Christmas, we want to be sure that each little girl and boy in our home gets a gift and a chance to celebrate at a festive Christmas party! For just $50 you can sponsor one child at The Refuge Children's Home this Christmas. This will provide them with a Christmas gift (a new pair of pants and a warm jacket), a special Christmas meal, and a Christmas party!
---
——– 

INDIA
Christmas is coming in India, but WINTER is already there! With each passing day, the temperatures continue to drop. Our hearts are with the 32 little boys and girls we support in Delhi and Kolkata at this time of year, and we want to do everything we can to make sure they are taken care of in the cold weather. It's not toys or candy they need this Christmas, it's BLANKETS and SWEATERS!
So, as you're shopping for Christmas gifts for your loved ones, would you please buy an extra gift for a child in need? Just $20 will buy a child a warm blanket, and $30 will buy one warm winter outfit! These are necessities that the children need to make it through the winter! Will you help us make sure every single one of our kids gets tucked in under a warm blanket every night?
---
Comments (0)